GEMCORE provides 100,000 meals to those in need
Donation to Akron-Canton Regional Foodbank comes as demand for services increases
"If you can't feed a hundred people, then feed just one."
— Mother Teresa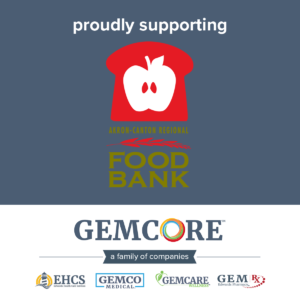 During this global COVID-19 pandemic, we are reminded daily at GEMCORE how both the disease and the stay-at-home orders affect our community. Through enhanced safety protocols within our essential businesses, we've been lucky to remain open and keep our employees working to provide life-sustaining diabetes supplies and services to our customers nationwide. But we can't ignore our friends and neighbors closer to home, including those vulnerable to food insecurity. That's why today, GEMCORE is donating 100,000 healthy meals to our community through the Akron-Canton Regional Foodbank.
If you haven't heard the term "food insecurity," you're not alone – but you'd be surprised how many people experience it. Food insecurity affects millions nationwide, including 1 in 7 individuals and 1 in 5 children in the Akron-Canton region. That's a lot of people who aren't certain where their next meal will come from.
"If we can conquer space, we can conquer childhood hunger."
— Buzz Aldrin
Defined by the USDA's Food and Nutrition Services as a situation of "limited or uncertain availability of nutritionally adequate and safe foods or limited or uncertain ability to acquire acceptable foods in socially acceptable ways," food insecurity basically means you don't have reliable access to the right amount of nutritious foods.
That's where organizations like the Akron-Canton Regional Foodbank step in to help. Soaring unemployment has led to greater stress on the Akron-Canton Regional Foodbank. In 2019, the Akron-Canton Regional Foodbank distributed 32.4 million pounds of food to more than 263,000 people, and March 2020 data shows a 30% increase in food distribution and double the number of first-time program visitors. That's expected to increase in April.
"Ramping up 30% is going to require additional community support," said Ed Edwards, Founder and Chairman of GEMCORE. "With food insecurity on the rise due to the pandemic, we recognize that the foodbank's resources are in short supply, and we hope our donation will help."
From children to senior citizens and from the unemployed to those living on fixed incomes, hunger doesn't discriminate. If you're able, we ask that you help us ensure that our friends and neighbors have food on their tables. Donate to the Akron-Canton Regional Foodbank now.
---
---