Cleveland Plain Dealer Names GEMCORE a Winner of Northeast Ohio Top Workplaces 2022 Award Again
GEMCORE's Third Consecutive Year Receiving the Honor
Hudson, Ohio – June 27, 2022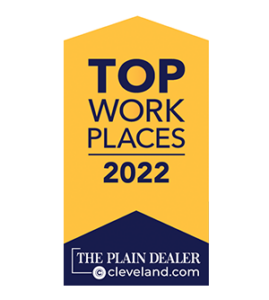 – GEMCORE has been awarded a Top Workplaces 2022 honor by The Plain Dealer, the major newspaper for the Cleveland metro area. The list is based solely on employee feedback gathered through a third-party survey administered by employee engagement technology partner Energage LLC. The anonymous survey uniquely measures 15 culture drivers that are critical to the success of any organization, including alignment, execution, and connection.
Through its four divisions — Edwards Health Care Services, GEMCO Medical, GemCare Wellness, and GEM Edwards Pharmacy — GEMCORE employs more than 300 people locally and was ranked 23rd in the Midsize Companies category. For the complete list of 2022 Top Workplace Winners, click here.
"GEMCORE is dedicated to building a workplace culture that rewards and empowers employees who share our mission to improve customers' lives through our innovative healthcare products and services. Our third appearance on The Cleveland Plain Dealer Top Workplaces is a testament to the entire team's commitment to our mission and those customers we serve daily," said Matthew Edwards, GEMCORE's CEO. "We are thrilled to be recognized with this honor once again."
The Plain Dealer's Top Workplaces list continues to reflect companies in the region that cultivate a connection with their workforce. This year's Workplaces list ranks 406 companies, nonprofits, schools, and other employers. These organizations share a commitment to providing support and an environment that makes employees feel valued and respected.
---
---